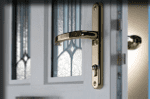 Patio Doors
Patio doors like those above are often very difficult to slide especially the bigger heavier doors. But these can be removed partially deglazed and the runners replaced these are basically wheels underneath the door.Many of theses runners are obsolete but can nearly always be replaced by similar modern runners on the market. Once these are replaced the door will run like new.if the track is worn out again this can normally be replaced.
PVCU and Aluminium Doors
One of the more common problems with these doors is when they drop. They drop so far you can often see daylight at the top of the door like in pic above. This then often leaves door difficult to lock and draughty. All doors need to have glass packed (Toe and Heeled) but many fitters do not do this therefore door will drop can sometimes take years but will drop. Toe and heeling door will increase height of door and cure problem with lock thoroughly overhauled and adjusted, door will again lock very easy. Toe and Heeling doesn't really make sense and is difficult to explain but cures most door problems.
broken hinges , door handles, letterboxes , sealed units, door knockers, spy holes, door chains can all be fitted or replaced. Whole door panels can also be replaced a totally different design will transform your door and will be much cheaper than a new door.
Our Services
Window Repair - Essex | Misted Sealed Unit Replacement | Jammed or Broken Handles Fixed | Replacement Locks and Hinges | Window Repairs/Broken Glass Replacement | Door Repairs | Conservatory Repairs | Door Lock Changing or Lock-out | Doors Aligned (toe and heeled)